It was about a month overdue, if you ask me.
Peter Laviolette's tenure with the Nashville Predators ended on Monday after six seasons as Head Coach. Kevin McCarthy, Laviolette's right-hand man and assistant coach, was also relieved of his duties by General Manager David Poile.
Credit: A to Z Sports Nashville
Laviolette, henceforth referred to as Lavi, had indubitably reached his natural end with the Preds franchise. This year's Preds team will, if they continue at this rate, will be statistically the worst one since Lavi took over as head coach in 2014. The Preds are currently sixth out of seven in the Central Division, 24th in the power play, 29th in the penalty kill, tied for first in power play goals against, and 29th in save percentage.
Lavi's recent decision making has raised some eyebrows, and not in a good way. His handling of the Kyle Turris situation was unprofessional, if not just plain rude. His never-ending changing of the lines has likely played a very big part in the wildly inconsistent offense we're seeing this season.
Most important, however, is the fact that Lavi has lost the locker room. When after every loss, no matter the scale, the head coach responds with a shrug and a casual "it just wasn't our night", the team is going to inevitably feed off that apathy. When a coach doesn't impose an authoritative message onto his players, the players are bound to lose respect for the person whose job is to issue them firm directives. When a team as "on-paper" good as the Preds are marching headlong into mediocrity, one expects the coach to wield- and use- a big stick. Lavi, whether it be out of true apathy or bloated overconfidence, failed at the very core part of his job this season.
Credit: Mark Humphrey/AP Photo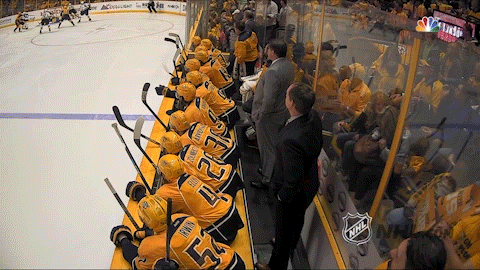 This is not to discredit Lavi's tenure or label it as a bust- not at all. Under Lavi, the Preds franchise quite literally reached new heights. The unprecedented run to the Stanley Cup Final in 2017 set the benchmark the highest it's ever been for future Preds teams. The Preds have finished first in the Central Division two years in a row now. They won the President's Trophy as the best regular season team in 2017-18, racking up 117 points. During Lavi's time with the Preds, Pekka Rinne won the Vezina Trophy in 2018, Viktor Arvidsson recorded the most regular season goals the franchise has ever seen, and Roman Josi just set the franchise record for active point streaks. Besides his Stanley Cup-winning tenure in Carolina, Nashville has easily been Lavi's most successful coaching stint.
Poile has yet to name a new or interim head coach as of Monday night, and since McCarthy was also axed, I can't imagine Poile is going to stick Dan Muse into the head coaching role. Lavi's firing comes as somewhat of a surprise, as Poile is notoriously stubborn about making coaching changes; if you recall, he kept Barry Trotz behind the bench for 16 years. Not to mention that Poile told the Midday 180 Show on 104.5 The Zone that he wasn't "contemplating making any coaching change at this time" on New Year's Day. This NHL season has already seen six coaching changes, and it's only Jan. 6.
Poile, and every single Preds fan in existence, is hoping the team can emulate the Blues' massive January-to-June turnaround from last season.